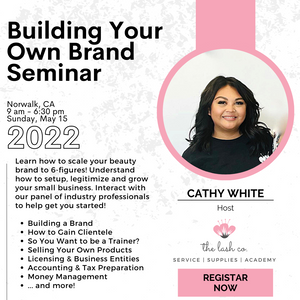 The Lash Co.
Build Your Own Brand Seminar on May 15, 2022 Sunday
Regular price
$499.00
$0.00
Unit price
per
Understand how to structure, legitimize and scale your beauty brand to 6 figures! Interact with our panel of industry professionals to help get you started and we'll help you figure out your next steps! 
When: May 15, 2022 on Sunday
Where: Double Tree Hotel Norwalk, CA
Time: 9 am - 6:30 pm
Coffee and lunch provided.
There will be a networking event after the seminar.

Seminar Curriculum:
How to Build a 6-figure Business:
- Creating Your Brand
- How to Gain Clientele On and Off Instagram
- When to Raise Your Prices
- Becoming a Beauty Educator
- Selling Your Own Products 
How to Structure & Legitimize Your Business:
- Licensing  (State Board, City, Sales Tax)
- Identifying Business Entities (LLC, Sole Prop, Corp, Professional Corp)
- Finding a Business Location (Home vs Renting)
- Independent vs Employee
- Trademarking
- Obtaining Insurance & Protecting Your Assets

How to Sustain Your Business:
- Maintaining Inventory
- Tracking Your Expenses & Income
- When its to File Your Taxes
- Setting Up Payroll
- Setting Up for Your Future (401K & Business Investments)
Panel Speakers:
Cathy White - Owner of The Lash Co. Group LLC
Nikki Bui - Owner of LashedWithNikki, Inc.
Ashley Gonzalez - Owner of Beautyliscious Lashes
Horacio Gonzales - CPA, Income Tax Services 
Victor Nwaba - Financial Advisor of Modern Woodmen of America
Add your Instagram account on the Order Notes! The name used during purchase will be on your name tag. If diferrent from checkout, please enter your name in the Order Notes. 

---
Share this Product
You killed it!
I've been to many business seminars, usually it gets boring after 10 min.
But OMG This was one of the best business seminars I've ever been too! I enjoyed every one of the speaker. Each one of you gave us so much detailed information clearly. I was just so amazed how awesome it was. Cathy you are a great speaker. I would highly recommend anyone who is serious about advancing in their lash game. To take one of the courses The Lash Co. offers. Thank you
---
You killed it!
I've been to many business seminars, usually it gets boring after 10 min.
But OMG This was one of the best business seminars I've ever been too! I enjoyed every one of the speaker. Each one of you gave us so much detailed information clearly. I was just so amazed how awesome it was. Cathy you are a great speaker. I would highly recommend anyone who is serious about advancing in their lash game. To take one of the courses The Lash Co. offers. Thank you